When it comes to gorgeous bathroom design you can count on San Diego Kitchen Renovation Pros to give you your heart's desire. Our family-owned and operated company has been working in the home improvement industry for many years. Along the way, we've designed and completely restructured many different types of bathrooms. There isn't anything that our crew cannot do.
We always offer affordable prices and free estimates. Our company understands that everyone lives on a  budget of some sort and we are happy to work with yours. Don't let cost be the reason why you forgo choosing us for your dream bathroom renovation. We'll do all that we can to build you a bathroom that is practical, functional, and looks like a million bucks without costing one.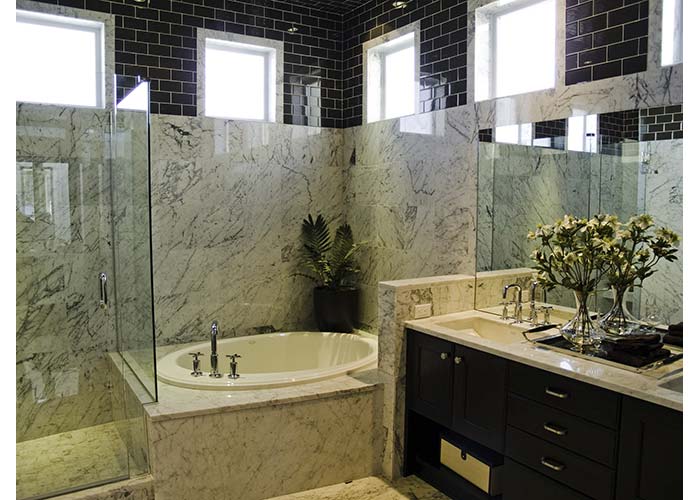 Last year, our office received a call from a client who wanted to update her bathroom. Her husband had just passed away and she felt like she needed to spruce her home up as a way to symbolize a new beginning in her life. We felt honored that she picked San Diego Kitchen Renovation Pros for her bathroom designing project. We knew the last thing we wanted to do was to let this kind lady down.
Our team spent a few hours with her during a FREE consultation going over design schemes, samples, and more. After taking stock of her bathroom we were glad that we had a lot of room to work with. Our client chose a walk-in shower, garden bathtub with jets, a brand new vanity and mirror, and a toilet along with a bidet. We would also be replacing the tiles and flooring.
We scheduled her in for a complete bathroom designing date. When we arrived everything was set and ready to go. Our team began removing the flooring, tiles, and other fixtures over the next few days. When it was time to install the new walk-in shower we ran into a small snafu with the sliding glass door - it was the wrong size. Not to worry! This was an easy fix and simply required us to place a phone call to one of our colleagues who promptly brought over another door.
When we finished our professional bathroom designing services our client was overwhelmed with joy. She praised our work over and over again. It made us happy to see her so happy. This was definitely one of our favorite jobs to date.