Bathroom remodeling is an excellent means of adding style to a bath while also increasing its overall functionality. A renovated space might offer more accessible, convenient storage as well as all the room you need for an easier morning routine or for adding those luxury, spa-like features you've always wanted in the bath.
An average, full-scale bathroom remodeling might cost between $10,000 and $15,000. Small renovations and DIY projects average between $2000 and $5000, while major remodel projects can cost upwards of $25,000 to $50,000 or more.
Before you let the cost of a bathroom remodeling contractor put you off to the idea of making changes in your home, you might first consider what's often involved in such a renovation project and how a bathroom remodel can benefit you and your family. It's also helpful to note some pros and cons of various surface and building materials so you can make the best choice for your home.
A homeowner trying to avoid the cost of a bathroom remodeling contractor might also note some cautions against DIY projects and what to avoid managing on your own. These tips will give you the information you need to discuss your options with your contractor and ensure you end up with a new bath space you'll love for years to come!
Where Your Money Goes for Most Bathroom Remodeling Costs
While bathroom remodeling costs might seem steep to many homeowners, it's helpful to know what is often included in those costs so you can better estimate the value of that work. You can then also discuss your options with a renovation contractor, picking and choosing what to include and what to leave out of your intended project!
Tear-out is very labor-intensive and can often mean thousands of dollars in costs. The more items you need removed, including walls to expand the space or rework its footprint, the higher your tear-out costs.
Moving bathroom fixtures often means added labor for reworking existing plumbing and installing new pipes and connectors as needed. Labor and materials for rerouting and installing pipes can also cost thousands.
New bathroom features might require added or upgraded electrical wiring. For example, a new spa tub might need its own circuit or wiring able to manage its electrical demands. While installing new wiring is not typically as labor-intensive as installing new plumbing, costs for a bathroom electrician might run several hundred dollars, if not more.
Tile installation is also a very labor-intensive job and the smaller the tiles, the more time it takes for their installation! If your bathroom remodeling project involves lots of new tile such as for a walk-in shower or built-in tub, this will add to your labor costs substantially.
A homeowner would do well to set aside a good 5-10% of their budget for repairs and prep work. For instance, a bathroom remodeling contractor might pull up the existing tile and note water damage along the subfloor, and the need for new floorboards.
Custom and luxury or high-end features also add to your bathroom renovation costs substantially. As an example, a new glass shower door might average between $300 and $500, whereas an oversized door cut to fit your new walk-in shower might cost anywhere from $1000 to $5000!
Store-bought, stock bathroom cabinets might cost anywhere from $60 to $200 per linear foot, whereas custom cabinets typically start at $100 and average around $500 or even more per linear foot.
Choosing Materials and Other Details for a Bathroom Remodeling Project
Since not every homeowner has an unlimited budget for their bathroom remodeling plans, it's helpful to note some pros and cons of various materials and other such details. You can then choose your "must have" details versus those you can forego or swap out for something less expensive.
Granite countertops are still a favorite for bathroom and kitchen remodeling, as granite is very durable and also resists germs and bacteria. Granite also tends to fall in the mid-range of countertop costs, making it affordable for most homeowners. Since granite is a natural stone, no two pieces are alike, so you're sure to find something you love but that doesn't look like every other countertop on the block.
Quartz countertops are produced with a mixture of plastic, real quartz and other stone remnants, and resins, and then buffed to a high-gloss finish. Remnants used in quartz would otherwise end up in landfills, making quartz an eco-friendly countertop material. While quartz is not necessarily as durable as granite, it typically falls into the lower price range for solid stone materials.
Porcelain and ceramic are excellent choices for flooring, countertops, and shower surround tiles, as both are very dense and durable, resisting water, mold, and bacteria buildup. Both also tend to fall in the mid-range of pricing.
Marble is typically one of the most expensive choices for bathroom countertops and flooring, although it's valued for its durability and appearance. One consideration to keep in mind is that marble is quite heavy, so your home's subfloors might need added bracing before you install marble.
Laminate countertops and flooring are affordable and durable but both offer an artificial look and feel that many homeowners find a bit distasteful. Low-end laminate bathroom countertops also tend to fall apart sooner rather than later, as excess humidity loosens its adhesion and allows upper layers to come unglued.
While vinyl flooring is affordable and easy to install, it also tends to show scuffmarks and wear sooner than many other options. As with laminate, vinyl also has an artificial look and feel that homeowners might not prefer.
While custom cabinets can sometimes be more than twice as expensive as store-bought cabinetry, note that having cabinets custom-made ensures you have all the storage you need, where you need it! A cabinetmaker can create small cubbyholes inside cabinets for storing personal care items, or ensure a wood finish that matches other wood pieces in your home.
Can You DIY a Bathroom Remodeling Project?
Homeowners worried about how much it costs to hire bathroom remodeling contractors often assume they can simply DIY a renovation project. However, this can mean results that are not only less than you hoped for but which are downright disastrous as well!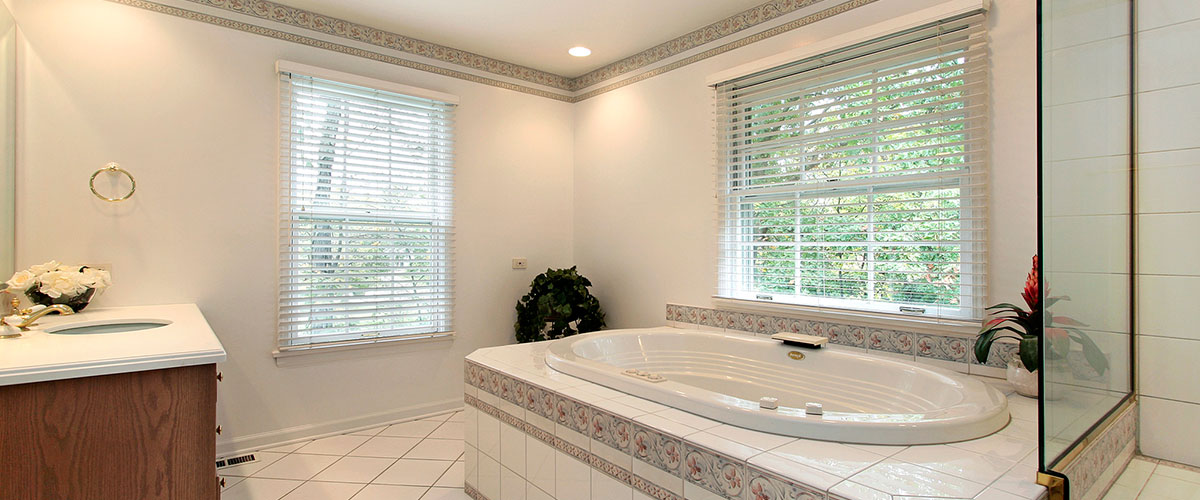 One consideration is that online tutorial videos explaining how to tile a bathroom floor or install new cabinetry and other such tasks don't typically teach you how to spot damage along a home's subfloor, wall studs, and other such areas. With proper repairs, your new tile might bubble or pull away from the floor and your new cabinets might hang crooked. Ignoring water damage, commonly found in bathrooms, can also mean eventual mold growth, weakened framing, and other costly repairs.
A bathroom remodeling contractor will also be familiar with local building codes and ensures their work is done to those codes. A contractor is also familiar with regulations and precautions when it comes to working with plumbing and electrical features; for example, your contractor might want to reroute electrical wiring away from certain plumbing features, for added safety in case of a water leak. He or she can also inspect current wiring, plumbing pipes, and other such features, and know when they need replacing.
A homeowner would also do well to note that home renovation is often far more difficult than they realize and even seemingly simple tasks, such as installing floor tile or new lighting, takes years of training and experience to get done right! Without that knowhow, new floor tiles might look crooked and pull away from their grout, water might seep behind shower tiles and lead to eventual mold growth, and you might even trip the room's electrical circuit every time you plug in a hairdryer! Ensure a space you love by investing in the costs of a bathroom remodeling contractor for your project.
How Can You Do a Bathroom Remodel for Cheap?
While a homeowner should never skimp on quality or the appearance of a finished renovation project, you might ask your contractor if pulling up old flooring or removing existing cabinets would save labor costs. Cabinets in good condition can often be repainted or refinished rather than replaced, also saving you hundreds if not thousands of dollars in cabinetry costs.
For smaller bathrooms, remnant materials might suffice and are often far cheaper than new materials. For instance, a granite remnant, leftover from another project, can be cut to fit smaller countertops. Remnant floor tiles, also left over from other projects, can sometimes be more than enough to cover smaller bathroom floors.
If you can't afford to rework the room's footprint but need added storage, shop around for creative yet affordable ideas you can use in your space. For instance, you might cut out the wall between two studs, add horizontal beams and drywall in that opening, and create built-in storage! Your bathroom remodeling contractor might also add shallow shelving to the wall above the toilet, providing added storage that is out of the way of foot traffic.
It's also good to work with your contractor and ask if they know of closeout sales, discontinued items, rebates, and other such financial incentives for the materials you want to include in your bathroom remodeling plans. You might be surprised at the suggestions they offer, which save you money without sacrificing style or function in your new bath!