Having a kitchen that you can show off to your guests is ideal. But, ultimately, once the bragging wears off, you will need to make sure that your kitchen is functional and meets your needs. Therefore, when you are getting a custom kitchen, try not to view it through the eyes of friends and guests. Instead, try to plan your custom kitchen in San Diego around your needs and make it as functional as possible. Here are a few tips to consider when designing a custom kitchen in San Diego.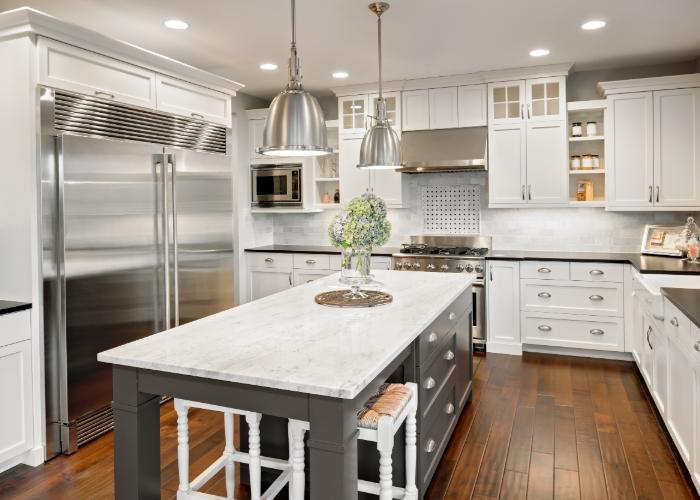 1. Develop a Budget For Your Custom Kitchen
Before deciding on who to hire to install your custom kitchen, it is a good idea to determine how much you want to spend on redesigning your kitchen. The cost to remodel a kitchen in San Diego could run you about $36,000 on average. If you can find a kitchen remodeling company that does budget remodeling, you may be able to get a new kitchen at a third of this cost. Determine how much money you can dedicate to the renovation from all sources and include a few thousand dollars for contingency.
2. Make Sure Your Kitchen is Functional
To make your kitchen an ideal workspace, it is a good idea to have a great kitchen triangle. This is the proper alignment of the stove, sink, and fridge. A functional kitchen will have these items in proximity to each other. 
3. Keep the Trash Can Out of View
This isn't a must but having a beautiful kitchen with a pile of trash in the corner distracts from the design. When customizing your kitchen, it may be a good idea to have a designated area for your trash can to go so that it won't become the center of attention in your kitchen.
4. Place Electrical Outlets in the Right Area
Sometimes it is hard to determine where you need electrical outlets during the remodeling process. However, it becomes apparent once your kitchen is complete and you are using it. It's a good idea to have several outlets around your cabinets to use small appliances like coffee makers, mixers, and blenders. Also, don't forget about having outlets where you plan to mount a microwave. 
5. Make Room For Pantry Space
Sometimes you can be so laser-focused on the critical things you need to have in your kitchens, such as your appliances, cabinets, and other essentials, that you forget about an item that is just as critical: space. It is a good idea to have plenty of room in your kitchen to store big pots, small appliances, food, and more. Ensure that you encourage your designer to incorporate as much space as possible for use in your kitchen.
6. Reinforce Lower Cabinets if You Plan to Use Heavy Countertops
If you plan to get heavier countertops such as natural stone or concrete, your cabinets must be reinforced so that they won't collapse under the weight of the heavy countertops.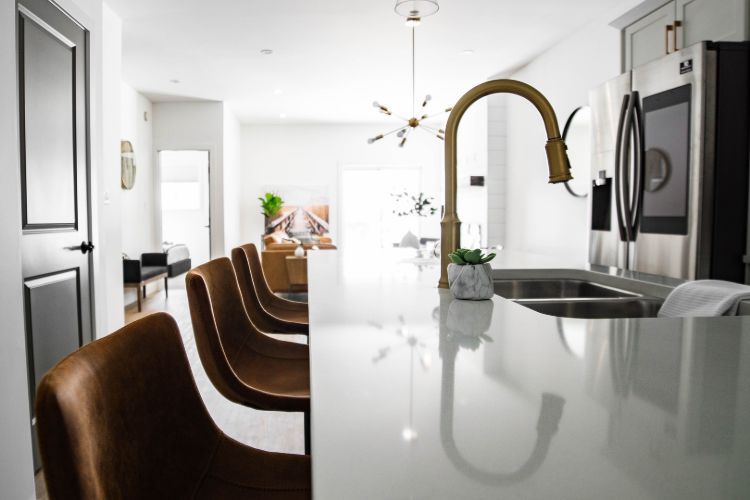 7. Choose The Right Countertop Edge
While you are busy making sure that your designer reinforces your lower cabinets to last as long as your countertops, you should also think about the type of countertop edge you want to have in your kitchen. For example, if you have small children who love to help you out in the kitchen, it may be a good idea to avoid pointy countertop edges. Also, when choosing your countertop edge, it may be a good idea to choose a traditional style rather than what's hot in decor at the moment. Some common countertop edges include ogee, round, bevel, and square.
8. Try To Pick Tradition Over Trend
When you are picking out colors, cabinets, and appliances for your kitchen, it is a good idea to stick with tradition unless you plan to be making changes to your kitchen often. Traditional elements will never go out of style. They may not be as popular, but they will never completely disappear. On the other hand, popular styles may become unpopular and make your kitchen look dated after a while. That's why it is a good idea not to choose highly trendy options for your custom kitchen.
9. Decide Whether a Stationary or Movable Island Works Best
If you decide to get an island in your kitchen, it is a good idea to determine whether you should get a movable one or not. The good thing about a portable island is that if you need more space, you can move it out of the way when you need to.
10. Choose Function Over Beauty With Countertops
When you get your custom kitchen, one final thing to consider is whether it is a good idea to invest in stone countertops or stick with something more durable. If you don't want to have to contact a stone restoration company often to fix etching, scorch marks, or other problems with your natural stone, it may be a good idea to choose a much more functional countertop like concrete or laminate.
When it comes to getting a kitchen remodel, a custom kitchen in San Diego gives you all the flexibility that you need to ensure that your kitchen will have all the things that you want and need in a kitchen. If you are looking for someone who can install a custom kitchen for you within your budget, consider the experts at San Diego Kitchen Renovation Pros. They provide a variety of prefabricated options and also work with you to give you the custom kitchen of your dreams. If you are interested in a budget kitchen remodel, they also offer this option. Call (619) 304-2605 today for a FREE estimate.