No matter your new kitchen cabinet cost in San Diego, upgrading the cabinetry in your kitchen and bathroom is a worthwhile investment in your home and your family! New kitchen cabinets for a San Diego home offer convenient, accessible storage and also improve the appearance of your kitchen in an instant.
While there is no easy way to determine your new kitchen cabinet costs in San Diego, you might note some vital information about materials for kitchen cabinets and options and features to consider when choosing new cabinetry. You can then discuss your options with your San Diego kitchen renovation contractor and decide on the best cabinets for your new kitchen design.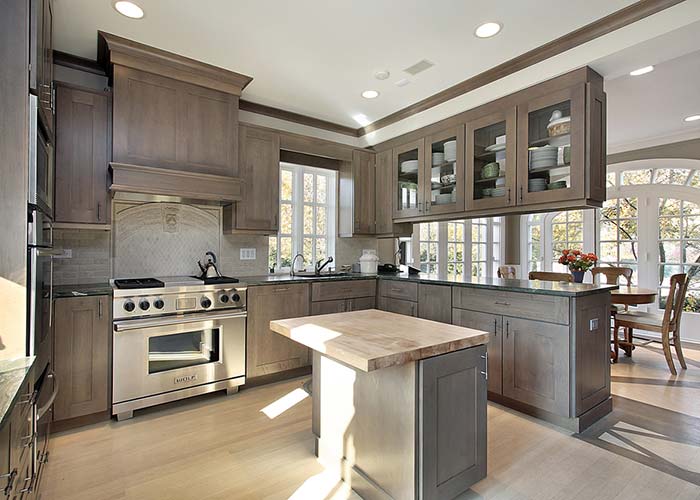 What Do New Kitchen Cabinets Cost in San Diego?
To better understand your expected costs for new kitchen cabinets in San Diego, note some factors that affect the price of cabinetry. This can alert you to expected costs for the cabinets you want in your San Diego home.
Kitchen cabinet material will often have the largest impact on their cost. Solid wood cabinets are very attractive, but sometimes the most costly depending on the wood species chosen. Pressboard, less durable styles of laminate, and other manufactured materials are often less costly.
Kitchen cabinet brands also vary in price as some brands are known to maintain their structural integrity far longer than others.
The hardware chosen for your new kitchen cabinets in San Diego might also impact their price. Oversized, decorative pulls, knobs, and hinges might add several dollars to the price of each cabinet, whereas simpler hardware styles and Shaker style cabinets without hardware might be far cheaper!
Specialty cabinets and features such as glass door fronts, pull-out shelving, or built-in lighting typically add to your new kitchen cabinet installation in San Diego costs.
Larger cabinets are obviously going to be more expensive than generic or standard sized cabinetry; consider the height and depth of cabinets when choosing the right option for your home.
Details in the design of a kitchen cabinet might also increase their cost; Mediterranean style cabinets, with crown molding and carved doors, are often more expensive than simple Shaker cabinets without detailing, as an example.
Some kitchen cabinet installers in San Diego charge more for removing cabinetry and disposal, whereas other might include removal in their pricing and also recycle old cabinets, saving them this cost and helping to reduce their charges to their customers.
What Material Is Best for New Kitchen Cabinets in San Diego?
The best material for San Diego kitchen cabinets will depend on your own personal style as well as your budget! Consider some differences between favorite cabinet materials but remember that you'll want to invest in quality cabinetry, to ensure your new kitchen cabinets in San Diego last throughout the years while also being attractive and easy to clean.
Solid wood offers a very beautiful, luxurious look and feel. However, keep in mind that solid wood tends to expand and contract as it absorbs moisture and then dries out. Solid wood cabinets might then need repair or replacing far more often throughout the years than other materials used for cabinetry.
Medium density fiberboard or MDF is a composite material, composed of recycled wood fibers and resin. MDF is strong and stable and less likely to expand and contract, and is easy to repaint as needed.
Plywood consists of layers of wood or plies glued on top of each other. These layers of wood also resist expanding and contracting, making plywood a very durable material for new kitchen cabinets in San Diego! Plywood is also cost-effective and budget-friendly, something to consider for overly large kitchens.
Particleboard is very cheap and not a popular option for cabinetry, as this material is composed of wood chips and particles held together by an adhesive. This adhesive might break down over the years, so that you need to replace your particleboard cabinetry quite often!
Stainless steel cabinets are often used in commercial kitchens but are fast becoming an option for residential homes as well! Stainless steel does show fingerprints but won't expand and contract over the years.
Should You Paint or Stain Your New San Diego Kitchen Cabinets?
Note that stain can only be applied over natural wood cabinets. Since stain often allows knots and other surface imperfections to show through, you'll want to choose the wood face of your cabinets carefully. Too many knots and a busy grain pattern might offer a rustic appeal to your kitchen that you appreciate, whereas other homeowners might prefer a smooth and sleek look without those surface markings.
Paint, while often being more expensive than stain, also offers more coverage for cabinets so you don't need to worry about knots and grains along cabinet fronts. Paint also offers a more uniform finish, allowing you to ensure that all your kitchen cabinets look alike and are without any variation in tone and color. It's also often easier to match cabinet paint to other colors in the home, such as the tones and shades in your kitchen flooring, backsplash, and kitchen countertops in a San Diego home.
What Is the Difference Between Cabinet Refacing and Refinishing?
Resurfacing or refacing kitchen cabinets in a San Diego home includes adding a layer of wood, laminate, or another material onto the front of those cabinets. This added layer of material covers over scratches, nicks, dents, and other imperfections, and creates an entirely new look for the cabinets. Updated refacing materials are also often easier to clean and more resistant to stains, fingerprints, scratches, and other damage.
Kitchen cabinet refinishing involves a new layer of paint or stain over the front of cabinet doors, framework, and drawer fronts. Refinishing is an excellent option if you're looking to avoid costs of new kitchen cabinets in San Diego, but not if those cabinets are in poor condition or an unappealing style! Investing in new cabinets for your kitchen so that you have added storage and an updated style that you'll love for as long as your own your house.