If you're looking to add some style to your kitchen in an instant, consider a glass backsplash. Glass is an excellent material choice for any backsplash as it's both durable and stylish, and works well with any kitchen décor. There are also many other advantages to choosing a glass backsplash versus any other material, so check out some vital information about this option and why it's a great choice for your home!
What Is a Glass Backsplash for San Diego Kitchens?
A homeowner has a few options for a glass backsplash; one is a glass sheet, or a long, solid piece of glass that is attached to the wall behind a home's stove and lower cabinetry. This style of glass backsplash offers a wide variety of looks or can become downright invisible! If you prefer a clean, simple design in the kitchen, opt for keeping the wall behind the backsplash the same color as the rest of the kitchen so the backsplash doesn't stand out.
However, if you prefer some added style and visual interest in the kitchen, consider painting that section of wall a complementary color, or opt for a mural, pattern, or other such design. The area behind the glass panel then becomes a focal point in the kitchen and can add lots of style and personality to the space.
Another option for a glass backsplash is glass tiles. These can also be clear glass, while the individual tiles break up the look and add some depth and dimension. Glass tiles can also be painted; this might be a solid color or it might include any number of patterns and designs. Glass tiles might also come in a variety of complementary shades; for example, the tiles might be a mixture of ash and gray colors, or shades of red and orange. This also adds lots of visual interest to the space.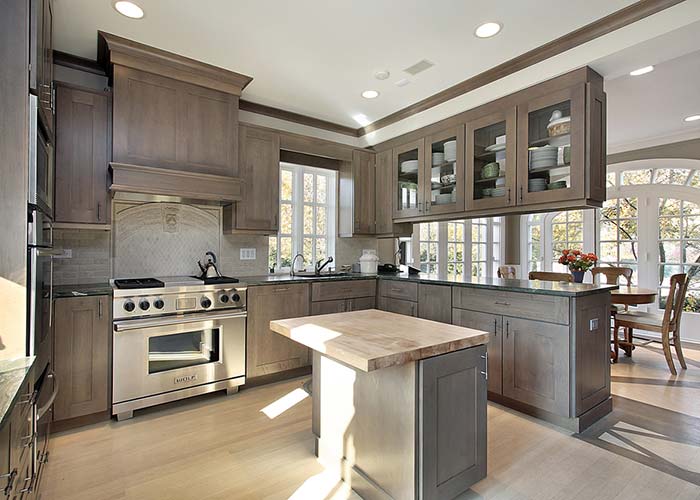 Why Are Glass Backsplashes for San Diego Kitchens So Popular?
There are many reasons why glass backsplashes in San Diego homes are so popular, and their versatility is just one such reason! Many homeowners love glass as a backsplash because the material is very eco-friendly; glass is made from natural materials found in abundance and is fully recyclable. Many manufacturers even use recycled glass in their materials, reducing the need for virgin materials.
Glass is also very fire-resistant and easy to clean. If you notice consistent food splatters on your kitchen's walls or cook with high heat that increases the risk of a fire in the kitchen, glass is an excellent choice for your home! The density of glass also means less risk of built-up, ground-in dirt and food debris and their resultant germs and bacteria.
One note of caution; solid glass panels are heavy and cumbersome and should be installed by a professional. Rely on an expert kitchen remodeling contractor for your new glass backsplash and no doubt you'll be happy with your kitchen design for years to come!