Kitchen remodeling is an excellent way to add value to your home while also increasing the overall function of the space. A new kitchen layout, added storage, upgraded appliances, and other such features can also make food prep and cooking easier for everyone in the family!
Kitchen remodeling might include a full tear-out of the space, right down to the floorboards and walls studs, to rebuild a new kitchen from scratch. A kitchen remodel can also mean just replacing certain features and details such as cabinetry, flooring, and countertops, as well as appliances. Most kitchen remodels are customized to every homeowner's needs for the space and their budget.
If your home's kitchen is in need of an update or the space simply doesn't work for you and your family for any reason, it's time to plan a kitchen remodel! Your new kitchen design plans and needed changes might be more affordable than you realize while still offering all the space and convenience you need.
Understanding the basics of a kitchen remodel as well as how it's planned step-by-step can help a homeowner decide on the best changes for their home and know what to expect along the way. You can also know what to discuss with a kitchen renovation contractor near you, and also know that you'll end up with a kitchen space you'll love for years to come!
A Step-by-Step Guide to Kitchen Remodels
Many homeowners are surprised at how involved kitchen remodels can become, and how a more simple renovation can improve a kitchen's function and appearance. To help you choose the right kitchen design plan for your home, note this step-by-step guide to kitchen remodels as well as how to improve your space with only a few simple changes.
A full tear-out allows a kitchen renovation contractor to completely rebuild the space. A tear-out means removing all appliances, cabinetry, and flooring. Your contractor then starts with a blank slate, able to redesign the kitchen according to your particular needs, including relocating appliances, the sink, and other such features.
A full-scale tear-out also allows a contractor to check for damaged subflooring, wall studs, electrical and plumbing connections, vents, insulation, and the like. Even if you don't necessarily want to rework the kitchen's footprint, it's often recommended that you choose a full tear-out for older homes or those you haven't inspected in some time, to ensure its framing, plumbing, and electrical are in good condition.
If you'll be choosing any feature that adds significant weight to the space, such as heavy stone floors or countertops, your contractor might need to pull up the flooring and brace the subfloor so that it can support that added weight.
Once plumbing and electrical lines are relocated, if needed, and the home's framing and insulation are prepared for your kitchen renovation, the space usually requires a professional inspection to ensure those new features are up to code!
If you will be reworking the kitchen's footprint, reworking the walls are typically the next step. Your contractor might need to push back or remove some walls to accommodate your new kitchen design plan, and he or she will then usually prime and paint the new walls before installing any other features.
Along with walls, this step also includes adding, removing, or relocating doors and windows to accommodate your new kitchen design plan. Putting in new windows is especially vital before adding cabinetry and other features, so contractors have easy access to those spaces.
Cabinet and plumbing installation are the next step, and then new countertops. Plumbing installation includes the sink, garbage disposal, and faucet. While some homeowners might assume that flooring should be installed before cabinetry, keep in mind that adding cabinets and plumbing can mean lots of foot traffic and the risk of scratching tiles!
New appliances are next installed, and flooring is next! Once these items are in place, you might add finishing touches such as shelving, lighting, and artwork.
When and Why You Should Choose a Full-Scale Kitchen Remodel
A full-scale kitchen remodel is often the costliest choice you might make for your space but, in many cases, it's the best investment you can make for your home and family! Consider some reasons why you might choose a full-scale kitchen renovation and new kitchen design, and why it's worth the cost.
A home-buyer might purchase a home with a kitchen that doesn't fit their needs because the property is a good buy for them overall. A full-scale kitchen renovation allows you to design a kitchen that better fits your needs.
A small kitchen might work for a single person or couple, but not for a growing family or those who want to entertain friends and family! Simply replacing cabinetry and other items might not open up the space as needed, so a full-scale tear-out is then needed.
If you feel your home's kitchen has an awkward layout, starting from scratch can mean addressing its footprint. For example, when appliances are spaced too far apart, this can mean lots of walking around during cooking! Relocating those appliances means more functionality in the space.
In some cases a kitchen might have a functional layout that just doesn't work for your needs in particular. As an example, someone who does a lot of baking and cooking from scratch might need added countertop space, whereas someone who entertains often might prefer added space for wine storage, a coffee bar, and eating in the kitchen.
While small kitchens lacking storage are often an issue for homeowners, oversized kitchens can mean wasted, underutilized space. A full-scale tear-out allows you to add walls and move that unused space to an adjoining room, create a walk-in pantry or closet, or even add a lavatory or other needed function for your home.
In some kitchens, every surface and appliance is simply old and outdated! Rather than trying to update the cabinets with new paint or work with older, smaller appliances in the space, a full tear-out can allow you to add new fixtures and features that coordinate and offer you the kitchen you'll love!
How to Update Your Space Without a Full-Scale Kitchen Remodel
You might not need or be able to afford a full-scale kitchen remodel, but this doesn't mean you're simply "stuck with" the current space! There are many ways to create a new kitchen design without tearing out the entire space or sacrificing style and function. A homeowner might simply replace cabinetry, countertops, appliances, and other features individually rather than managing a full renovation.
To decide the changes you need in your space, note why it doesn't seem to work for you. Does the kitchen have a workable layout but simply looks rundown and dingy? In that case, refinish or replace the cabinetry, counters, and floors for a fresh new look.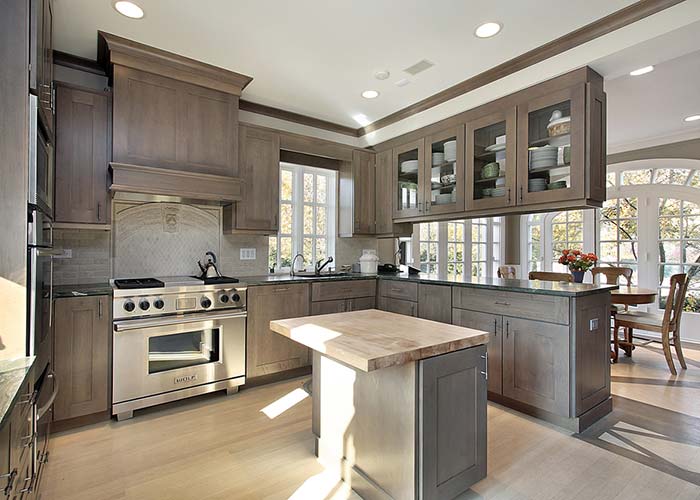 If the kitchen's overall appearance works for you but it lacks space, you might simply need to tear down a wall and create some flow between the kitchen and dining or family room. Removing a wall often allows you to add additional cabinetry in that space as well, if needed. If the kitchen doesn't necessarily lack space but just seems a bit cramped, you might remove an upper cabinet or two and replace them with open shelving, for a less crowded feeling.
For kitchens that lack storage, if you cannot add a new pantry you might consider taller upper cabinetry. A few added inches of cabinet space can mean storing away seldom-used small appliances and holiday dishes that otherwise take up space in lower, more accessible cabinets.
How to Choose the Right Surface Materials for a Kitchen Renovation
Whether for a full-scale kitchen renovation or to just update a few features in the space, choosing materials, colors, and other details for surface materials can be a daunting task! Some homeowners, unfortunately, end up with countertops, flooring, and cabinets that seem to clash or that create a muddy, cave-like space rather than the beautiful kitchen they imagined. To avoid this happening during your kitchen renovation, consider a few tips for choosing the best surface materials, colors, and other such details.
The first consideration for any homeowner should be durability and how easy it is to clean those surfaces. These factors become even more vital if you have children or pets, or tend to cook or entertain often, as this means lots of foot traffic on the floor and fingerprints on the counters! Opt for durable ceramic flooring and solid stone counters for busy kitchens, and flat paint on the walls.
Another vital tip is to ensure that you have opposing colors or shades on each surface as they touch each other. In other words, if you love a dark floor tile, choose a light cabinetry color, then a dark backsplash color. By varying these colors you avoid either a dark and muddy look or a bland, overly bright look.
Another tip is to offset one strong color with opposing accent colors. For instance, if you have a large kitchen with lots of white cabinetry, you want to choose a dark accent color for the backsplash or wall paint, or opt for black appliances. By offsetting that light color that runs through your kitchen with something darker or bolder, those colors won't simply blend in with each other and seem bland and dull.
Your kitchen remodeling contractor can also offer suggestions for various surface materials and how to choose the right colors and tones. Their advice can ensure you'll be happy with your new kitchen space for many years to come!