Home décor fads come and go, but granite kitchen countertops in San Diego homes have stood the test of time! A new granite countertop installation still remains a favorite choice for San Diego homeowners and for kitchen renovation contractors around the country. If you're planning a kitchen renovation in San Diego or surrounding areas, note why you might consider new granite countertops versus any other material.
Why Choose Dense Granite Kitchen Countertops for a San Diego Home
Granite is very dense so that it doesn't easily absorb food debris, spills, or trapped humidity. Granite kitchen countertops are less likely to show stains, water marks, and other damage over time than other low-quality countertop materials.
Because granite countertops don't absorb humidity and moisture, they won't swell or dry and shrink, as do wood countertops or laminate counters with a wood base.
Dense granite kitchen countertops in a San Diego home are less likely to show nicks, cuts, scratches, and other such marks.
The density of granite makes the stone less likely to absorb germs, bacteria, and other contaminants, keeping your kitchen cleaner and more hygienic for food prep and cooking.
Granite Kitchen Countertops Are Durable!
Solid stone materials are very durable, especially when compared to other kitchen countertop materials. For example, laminate countertops are manufactured in layers. The uppermost layer of a laminate countertop is glued to plywood or another inexpensive material below it. The glue holding this top layer tends to soften and lose its adhesion over time, allowing a laminate countertop surface to literally peel away.
Porcelain and ceramic tile countertops are prone to breaking and chipping, especially if you were to drop a heavy pan on their surface! However, solid stone materials including granite countertops are durable and not likely to chip, crack, or peel over time!
Granite kitchen countertops in a San Diego home are heat and fire-resistant, unlike many laminate materials and wood butcher-block countertops. A solid stone like granite then adds to the safety of your home, not allowing a kitchen fire to spread and grow.
A Granite Countertop Installation is Unique!
While a granite countertop installation for a San Diego home might be a favorite choice for many homeowners, your granite counters will still be unique! This is because genuine granite is not manufactured in a factory and is not painted or stained, so no two slabs of granite are alike.
Your granite countertops might then resemble those found in another kitchen in the neighborhood, but the color tones, flecks in the stone, and veining of your granite counters will all be unique and individual. You can then avoid a "cookie cutter" look in your kitchen when you choose a granite countertop installation for a San Diego home.
The unique designs of granite also allow you to change the look of your kitchen without having to change your countertops. For example, if you want a new color on your kitchen cabinets, you might choose a tone similar to the flecks of your San Diego granite countertops one year, and then repaint your cabinets the color of the veining in the granite the next! Your kitchen surfaces will then always look coordinated even when you change colors or shades of various materials.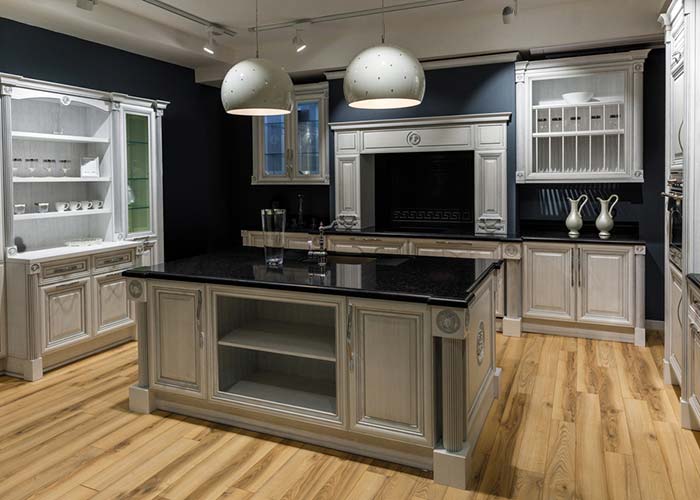 Appreciate the Appearance of Granite Countertops in a San Diego Home
One reason that granite countertops in San Diego homes have stood the test of time is that granite offers a neutral appearance that works well with a number of home décor styles! A dark green granite with gold veining might be paired with white cabinets sporting brass hardware, bringing out those gold flecks. Light tan granite with dark brown flecks work well with rich wood cabinets.
Many slabs of granite are also so dark that they appear almost black, which works with a modern décor, offsetting glass countertops and Shaker-style cabinetry. Tan colors and brown shades of granite countertops in a San Diego home also work with traditional styles, or in a transitional home, combining clean and modern elements with warm wood and classic vinyl floor tiles.
Choosing a granite countertop installation for a San Diego home allows you to change your home's décor, as said, but the neutral look of granite colors and tones also appeal to a wide range of homebuyers! Opting for granite kitchen countertops now allows you to put your home on the market in the future without worrying that your kitchen surface materials might detract from your home's style.
Granite Countertop Installation is Not a DIY Job!
Even small slabs of granite are extremely heavy. Dropping a section of granite can lead to chips, cracks, or breakage. Granite countertop installation contractors in San Diego will have the equipment and knowhow to safely transport granite to your home and into the kitchen as well.
Your home's subfloor might need added bracing to hold up the weight of new granite kitchen countertops for a San Diego home. Without added bracing, a home's subfloor can begin to crack and chip, leading to warped floors as well as creaking and squealing when you walk across the kitchen.
Granite kitchen countertops typically need to be buffed, sealed, and otherwise treated after installation, to protect the durability of their surface and their overall shine. A granite countertop installation contractor will ensure your new counters are prepped properly after installation.
Incorrect adhesives might soften under the heat and humidity of a kitchen, as well as the weight of your new granite kitchen countertops. An installation contractor will use proper adhesives and ensure they're applied as needed, and that they've dried thoroughly, before you use those new counters.
Separate slabs of granite need proper caulking and sealing, to ensure you avoid water damage to the cabinets below.
The wrong caulk or an improper caulking job around a kitchen sink can lead to water leaks and other such damage. A granite installation contractor ensures that a kitchen sink is sealed properly after the installation of granite countertops in a San Diego home, avoiding the risk of water damage.